Indian Missionary Society
IMS is the first indigenous Missionary Organization of India, founded in the year 1903.
IMS is the first indigenous Missionary Organization of India, founded in the year 1903.
In Palayamkottai  also called as Oxford of India, at the place where the centenary hall was proposed  to be built to commemorate the centenary celebration of Tirunelveli Diocese, a few prayer warriors were earnestly praying for the salvation of India.
Mr.V.S. Azariah while working as a secretary of YMCA Chennai Visited Jafna in Srilanka there he came to know that the Srilankan Church has sent missionaries to  Thondi, in Tamil Nadu. influenced by this, Azariah became zealous in his spirit & after his arrival to India met the prayer warriors at Palayamkottai, & shared the need of a missionary organization to evangelize India. Prayers got intensified. Eventually, On 12th February 1903 at "Chatthiram," where the Tirunelveli Diocesan press is located now, 8 priests & 20 laymen along with VS Azariah formed INDIAN MISSIONARY SOCIETY.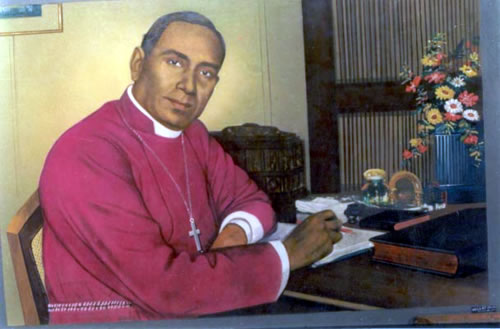 With a motto INDIAN  MAN  INDIAN  MONEY  INDIAN  MANAGEMENT . The first mission field of IMS is Dornakal. in Andhra Pradesh. Mr. Samuel Packianathan went to serve the Lord as the first missionary. He was the Secretary of ""Baliar Sangam"" in Tirunelveli. The General Secretary of IMS Mr.V.S.Azaraiah got the calling from God and went to Dornakal as a missionary  on 15th July 1909. By the Grace of God and the strenuous efforts of the missionaries, the first mission field of IMS became a Diocese. Rev. V.S.Azariah was  consecrated as its first Bishop.
=> Holy Bible is our basis ( Values )
=> Holy Spirit is our strength ( faith )
=> Model of Jesus Christ is our life and ministry ( prayer , sacrifice , love , commitment , servant leadership )
=> Joint efforts of all Christian believers is our source ( Fellowship )
=> Glorifying Triune God alone is our purpose ( Our Activities )
As disciples of Jesus Christ filled with the love of the Cross , enlarge the Kingdom of God among the un – evangelized people in the unreached I tribal areas in India and abroad by preaching the Gospel , making disciples and help planting indigenous self supporting churches along with the appropriate activities of social concern .
To extend the Kingdom of God by spreading the light of Gospel among the un – evangelized people in and out of India .