Indian Missionary Society (IMS)
IMS is the first indigenous Missionary Organization of India, founded in the year 1903.
Indian Missionary Society (IMS) was born through the vision of   Bishop V.S.Azariah on 12th February 1903 at Palayamkottai, Thirunelvelli district, South India
It was  the  period  of  British  rule  over  India. In Palayamkottai  also called as Oxford of India, at the place where the centenary hall was proposed  to be built to commemorate the centenary celebration of Tirunelveli Diocese, a few prayer warriors were earnestly praying for the salvation of India
Mr.V.S. Azariah while working as a secretary of YMCA Chennai Visited Jafna in Srilanka there he came to know that the Srilankan Church has sent missionaries to  Thondi, in Tamil Nadu. influenced by this, Azariah became zealous in his spirit & after his arrival to India met the prayer warriors at Palayamkottai, & shared the need of a missionary organization to evangelize India. Prayers got intensified. Eventually, On 12th February 1903 at "Chatthiram," where the Tirunelveli Diocesan press is located now, 8 priests & 20 laymen along with VS Azariah formed INDIAN MISSIONARY SOCIETY.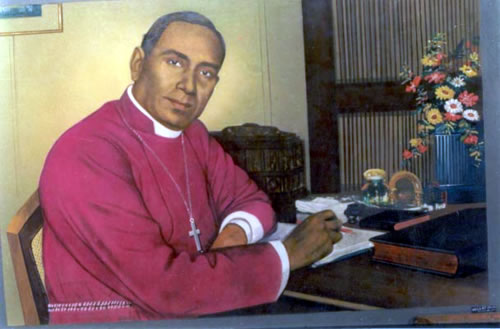 Today IMS Ministries are going on in 286 districts of 25 states and 2 Union Territories in India. We have sent missionaries to Nepal also. In 43,965 villages 1880 missionaries are tirelessly preaching the Gospel. Believers are regularly worshipping the Lord in 442 churches and in 7862 houses.
The New Testament & Proverbs has been translated in Koya language and the Koya audio Bible has also been released.
Training Centers for missionaries and evangelists are functioning in 5 places.
God's love is being shared along with education to 4550 students in the 8 schools that we have. We have 104 Sewing Centers and 16 Computer Training Centers.
Through 39 hostels & 81 Day Care Centers, we are actively involved in taking care of 5485 children.
Medical ministry is done in 13 Medical Centers and one hospital. In Odisha we have freshly started a Training Centre for the Blind People's talent enhancement. We help poor old widows who are left alone.